UE Ranger and BrightBrainer BBX
BrightBrainer games coupled with the UE Ranger facilitate intensive training of weak arms.
The UE Ranger meets each patient at their personal impairment level. The UE Ranger's sensitive support fosters neuromuscular based strengthening producing a graded continuum of recruiting small motor units. progressively to larger ones.
The UE Ranger + BrightBrainer is an ideal combination for training patients who need intensive motor and cognitive rehab, yet do not currently have gravity bearing or grasp function.
See our
brochure
for more details.
What is BrightBrainer™ BBX?

BrightBrainer BBX is a Class I FDA listed medical device that provides intensive game based motor training and cognitive exercising.

Our custom therapeutic game library targets various motor domain aspects (motor control, speed of movement, endurance, hand-eye coordination, task sequencing) and cognitive domains (executive functions, attention, short term visual and auditory memory, working memory, reading comprehension, dual tasking). Training also benefits the emotive state. The system is mobile and self-contained, it comes with a medical grade high-end computer, large adjustable display and wireless bimanual controllers. Session reports are automatically generated.
Read more about BrightBrainer Successes here!
Benefits to Clinical Use

BrightBrainer provides an option for patients who reached a plateau, or for those who do no-longer respond to customary therapy. In addition, studies have shown that adding BrightBrainer therapy to standard of care results in higher outcomes over the same time span. BrightBrainer BBX high degree of automation facilitates training by COTAs or PTAs. This provides increase access to care while lowering costs.

Let us show you how BrightBrainer BBX can help clinic managers and practitioners.
About Integrative Cognitive Exercising
BrightBrainer BBX is an engaging serious-gaming computer based platform that also engages its user's whole arm and fingers. Such moderate upper body exercising stimulates additional functions (e.g. blood flow, movement cortex centers, cross connections between lobes). BrightBrainer BBX bimanual nature of exercising allows game playing with increased cognitive load and divided attention.
This combination of stimuli, called Integrated Cognitive Exercising, is what BrightBrainer BBX has been optimized for.
In this context, the BrightBrainer BBX enables:
A medicative-free approach to cognitive training;
New Behavioral protocol development (e.g. related to successful aging);
Research grant generation;
1G. Burdea, K. Polistico, A. Krishnamoorthy, G. House, D. Rethage, J. Hundal, F. Damiani and S. Pollack. Feasibility study of the BrightBrainer integrative cognitive rehabilitation system for elderly with dementia. Appeared in Disability and Rehabilitation Assistive Technology 2015;10(5):421-432.
Product Description and Key Features
BrightBrainer BBX System is an FDA Class I approved medical device. It consists of a high-performance medical grade computer, bimanual wireless controllers that measure hand position and finger flexion, a large adjustable display on a cart, and a library of adjustable games.
BrightBrainer BBX is self contained and mobile, easy to place inside an inpatient or outpatient facility.
Each session consists of custom therapeutic games that adapt to the patient. Each game trains cognitive and motor function at various levels of difficulty. A Session Report is automatically generated.
Therapist manual and video tutorials are included.
See brochure for more details.
Benefits to the Researcher
Through its serious-gaming interface, BrightBrainer BBX acquires real time movement of both arms and index fingers, stores game performance data and displays objective scores for Cognitive Domain Performances to include: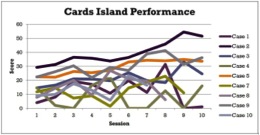 Short term visual and auditory memory
Delayed recall of visual and auditory information
Executive function /Decision Making
Attention – Processing Speed
Working memory
Language Comprehension
Additionally, the system calculates the total interaction time as well as arm-specific number of repetitions. When plotted over time (multiple sessions) these cognitive domain scores provide an objective way to assess user's cognitive progress.
A Session Report is automatically generated saving therapist time, while still allowing clinician's input.
For More Information
Please consult with us for accessories for individuals with no grasping function, spastic individuals or those with little gravity bearing. For more information please Contact Us.